When you have a legal problem, it affects everything — your job, your children and your future. It is important to have strong Minneapolis family law attorney to get your life back on track. At Beckman Steen & Lungstrom, P.A., we guide clients through the legal process so they are ready to move forward when their legal issues are resolved.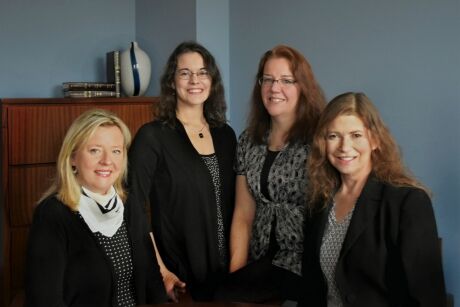 Where Families Come With With Our Minneapolis Family Law Attorneys
Our divorce attorneys and family law lawyers are not the stereotypical attorneys. We take the time to answer questions so that you, not the legal system, are in control of the situation. We believe that when you are fully informed about your options and risks, you will make the right choices for you and your family. In short, we will help you help yourself.
We are not afraid to explore creative solutions to legal problems, whether the matter involves divorce and family law or a probate matter. Because many of these matters can be highly charged and stressful, we are strong proponents in many instances of alternative dispute resolution (ADR) methods such as collaborative practice divorce and mediation. In addition to being less adversarial, ADR may also save clients time and money. Clients appreciate this combination of personal service and creativity. They also recognize that our diverse life experiences give us an unusual ability to empathize with clients' situations. Contact us today to speak to an attorney about your divorce or family law issue and receive a free consultation.
Minnesota Divorce Process Explained
Divorce is a difficult process that can be emotionally and financially challenging. If you are considering divorce in Minnesota, it is important to understand the legal process and the issues that may arise during the proceedings. This article will provide an overview of the Minnesota divorce process, including how children are involved with child custody and visitation, as well as how child support and alimony payments are determined, and how marital assets and debts are divided.
Child Custody and Parenting Time
One of the most important issues in a divorce involving children is determining child custody and parenting time. In Minnesota, the court will consider the best interests of the child when making decisions about custody and parenting time. Factors such as the child's relationship with each parent, each parent's ability to provide for the child's physical and emotional needs, and any history of abuse or neglect will be taken into account.
Parents may be able to come to an agreement on custody and parenting time through mediation or negotiation. If an agreement cannot be reached, the court will make the final decision. The court may also order a custody evaluation to assist in making the decision.
Child Support and Alimony Payments
Child support and alimony payments are also important issues to consider during a divorce. In Minnesota, child support is calculated based on a formula that takes into account both parents' incomes and the amount of parenting time each parent has. Alimony, or spousal maintenance, may be awarded based on factors such as the length of the marriage, each spouse's income and earning potential, and the standard of living during the marriage.
Division of Marital Assets and Debts
Another important issue to consider during a divorce is the division of marital assets and debts. In Minnesota, marital property is divided equitably, which means it is divided fairly but not necessarily equally. The court will consider factors such as each spouse's income, earning potential, and contributions to the marriage when making the decision.
Debts are also divided in a divorce. Generally, debts incurred during the marriage are considered marital debts and are divided between the spouses. However, if one spouse incurred debt for their own benefit, such as a gambling debt, they may be solely responsible for that debt.
Divorce Mediation & Arbitration
When a married couple decides to divorce, it can be a difficult and emotional time. Often, divorces are portrayed as contentious legal battles, with each party fighting to get the best outcome for themselves. However, there is an alternative to this type of divorce – divorce mediation. In Minnesota, divorce mediation is becoming increasingly popular, as it offers a more peaceful and amicable way to end a marriage.
The main difference between uncontested divorces and contested divorces is that in an uncontested divorce, both parties agree to the terms of the divorce, including the division of assets, child custody, and support payments. In a contested divorce, the couple cannot agree on these terms, and the case goes to court for a judge to decide. Divorce mediation is a way to work towards an uncontested divorce, by bringing in a neutral third party to help the couple reach an agreement.
There are many benefits to divorce mediation in Minnesota. One of the main advantages is that it is usually less expensive than going to court. Mediation sessions typically cost less than hiring a lawyer to represent you in court, and the process can be completed in less time. Additionally, divorce mediation is often less stressful and more peaceful than going through a contested divorce, which can be emotionally draining for both parties. Finally, mediation allows the couple to have more control over the outcome of their divorce, rather than leaving it up to a judge to decide.