Why Does The Gender Of My Divorce Lawyer Matter?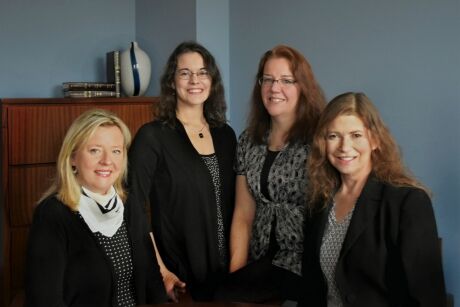 Effective female attorneys can help empower your future. Women have aggressively and intelligently mastered the law in a court system that was at one time was male dominated. As we leave that time behind, our hard work truly pays off in a more modern and fair courtroom.
We value the precedence that male attorneys have provided historically, and we now move forward in a time where both women and men can work together to best assist our clients. Both attorneys at Beckman Steen & Lungstrom are women and they have worked very hard to become two of the best attorneys available in Minnesota. Our focus always remains on you and how we can get you the best results.
Does A Lawyer's Gender Matter?
It can, in many circumstances. Premonition AI is a logistics and analytics firm and the world's largest and most comprehensive litigation database. They have studied female lawyers and their professional relationships with male lawyers in terms of pay, billing hours, and general success concluding in a deep analysis, Women In Law, a forty-page study published in 2018.
The study states that, historically, male lawyers and judges have been held in higher regard than their female counterparts. Premonition CEO and co-founder, Guy Kurlandski, spoke about the study to Cision PR Newsletter and he reinforced the findings of the official analysis. Modern lawyers of the female persuasion consistently outperform their male colleagues.
Statistics And The Double Glass Ceiling
Kurlandski also stated that women outperformed men in the courtroom in every single field of law. Their research discovered that a female lawyer won, on average, almost 71% of the time. Men came out on top only 57% of the time.
The owners of Premonition state that women lawyers have always had to work under a double glass ceiling. The women must work harder than their male peers to succeed in school and then work harder than the males once they begin practicing, no matter where they are practicing.
So far, the only documented and concrete reason why the female attorneys performed better have solely been attributed to that very issue, Darwin's survival of the fittest.
Why Choose A Female Lawyer Specifically?
The ABA Journal states that women are conditioned to have a particular set of valuable skills that are sometimes discouraged in men:
the ability to accommodate, to think on their feet, and to accept and adapt to new information
the ability to collaborate as part of a successful team, which includes the client
the ability to be judicious and successful at leading teams into the battle of the courtroom
the ability to look at creative solutions to individual problems and implement them fully and successfully
Our incredible female lawyers at Beckman Steen & Lungstrom are proud of the creative solutions they come up with to help you with your legal problems. They communicate directly with you and brainstorm solutions that place you in charge of your own fate. The entire staff is dedicated to helping you help yourself.
Families come first in our firm and every detail of your lives can be affected by the outcome of your case. We believe in mediation or the collaborative process when possible and will give you a strong professional and personal experience that is less damaging to everyone involved. However, if these methods cannot work in your case, then our attorneys are comfortable in the courtroom.
Beckman, Steen, and Lungstrom P.A. Women At Law
We believe that you have the right to an educated understanding of what we do best at Beckman, Steen, and Lungstrom P.A, Attorneys At Law. Our goal is to ensure that you are making the best decisions for your family and yourself, with your eyes wide open.
Our client services are outstanding. We are committed to high-quality, assertive, and creative strategies to get you the results you desire and that you deserve. Contact us to schedule your free consultation. We can work together to clear a path for your amazing new future.
Whether you need representation in family law matters including divorce, child custody, spousal support, mediation, collaborative law or if you have questions regarding probate, wills, appellate law, or guardianships, we look forward to speaking with you about your legal issues.
Outside Sources:
https://www.prnewswire.com/news-releases/women-lawyers-significantly-better-study-finds-300623531.html
https://www.abajournal.com/news/article/are_women_lawyers_more_successful_in-house_because_companies_value_their_pe/